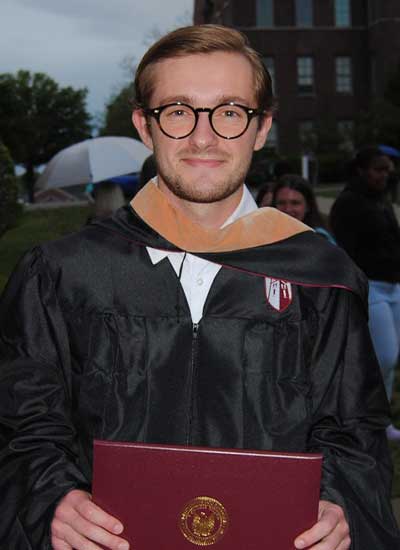 France

TENNIS : CLASSEMENT 3/6
Sacha Colomban, joueur de tennis classé 3/6, originaire de Briançon, s'est rapproché d'Athletics Partner pour son intégration et la recherche d'une université américaine pour jouer au tennis et étudier avec un départ programmé pour août 2018.
Sacha a choisi d'intégrer Iowa Central Community College situé à Fort Dodge près de Des Moines, un community college à taille humaine que nous connaissons bien et qui permet une belle première immersion. Pendant 2 ans, il dispute le championnat NJCAA avec les Tritons d'ICCC et obtient son Associate Degree en Business Administration & Management en mai 2020. 
En août 2020, il transfère pour une université de NAIA,  Cumberland University, située à Lebanon, dans le Tennessee. Il fait également partie du « Student Athlete Advisor Comittee ».
En mai 2023, Sacha est diplômé d'un Master's Degree !
Iowa Central Community College (2018-2020)
2018-2019 NJCAA National Community Service & Outreach Team of the Year
2018-2019 NJCAA Academic All-American Second Team
2019-2020 NJCAA Academic All-American First Team

2x ICCAC Academic All-Region First Team (2019, 2020)

Associate Degree en Business Administration & Management
Cumberland University (2020-2023)
2x NAIA/ITA Scholar-Athlete (2021, 2022)
2021-2022 All Mid-South Conference Honorable Mention
2020-2021 Mid-South Conference Runner Up

2020-2021 ITA/NAIA East Regional Community Service Award (Team)



2020 Cumberland University Dean's List Fall 2020
Bachelor's Degree en Business Administration et Management
Master's Degree
⭐️ ⭐️ ⭐️ ⭐️ ⭐️ Je recommande Athletics Partner à 100% pour un départ en université américaine !
Iowa Central Community College (2018-2020)
Cumberland University (2020-2022)
Découvre d'autres profils de joueurs de tennis que nous avons placés en université américaine :