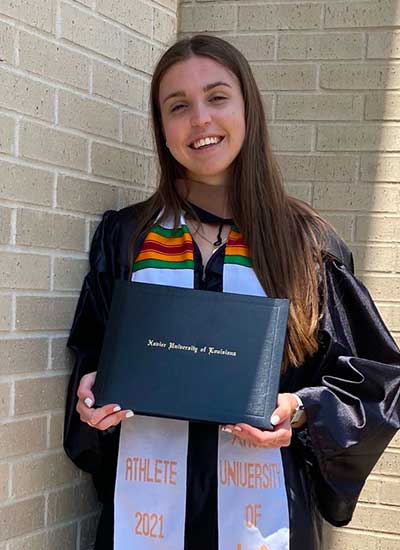 FRANCE

VOLLEYBALL : Pré-National
POSITIONS : PASSEUSE
Skema Business School (septembre 2021)
Eva Le Guillou est originaire des Yvelines en Île de France et membre du Pôle France de volleyball de Châtenay-Malabry. Pendant son année de terminale, Eva s'est engagée avec Athletics Partner pour débuter un processus d'intégration en université américaine au Fall 2017 et obtenir une bourse sportive en volleyball. 
En août 2017, Eva prend son envol pour la Louisiane direction Xavier University of Louisiana et son équipe de volleyball des Gold Nuggets pour disputer le championnat NAIA de volleyball universitaire.
Depuis, Eva enchaîne les très bons résultats sur le terrain et a été élue 3 fois « Passeuse de l'année » de sa conférence avec notamment 4 titres consécutifs en Gulf Coast.
En mai 2021, Eva est diplômé d'un Bachelor's Degree en Business Administration et Management et intègre le Programme Grande Ecole de SKEMA Business School à Paris en septembre 2021.
Xavier University of Louisiana (2017-2021)
4x Gulf Coast Atlantic Conference Champions (w/ XULA) (2017, 2018, 2019, 2021)
2020-21 GCAC Commissioner's Academic Honor Roll

2019 XULA Sister Grace Mary Flickinger Honor Roll

2018 NAIA Setter of the Week (Novembre 2018)
2018 AVCA NAIA All-Southeast Honorable Mention
20x GCAC Setter of the Week
3x GCAC Setter of the Year (2017, 2018, 2019)
3x GCAC All-Conference Team Award (First Team in 2018, Second Team in 2017, Honorable Mention in 2020)
3x Preseason All-GCAC team (2018, 2019, 2020)
2x All-Louisiana Volleyball (2017 Honorable Mention, 2018 Second Team)
Bachelor's Degree en Business Administration et Management
SKEMA Business School – Programme Grande Ecole (2021-)
Je suis fière de vous annoncer que je suis diplômée de Xavier University of Louisiana avec un Bachelor's Degree en Business Administration et Management. Je suis très reconnaissante pour tout le soutien du département Business de XULA, du département Athletics et de l'équipe de volleyball ainsi qu'Athletics Partner. 

 

Cela a été un gros challenge d'être une étudiante athlète pendant ces 4 dernières années, mais cela été la plus belle expérience de toute ma vie.

 

Après 4 ans aux USA, je suis super excitée de démarrer une nouvelle aventure dans mon pays. Je commence un Master Programme Grande Ecole à la SKEMA Business School à Paris.