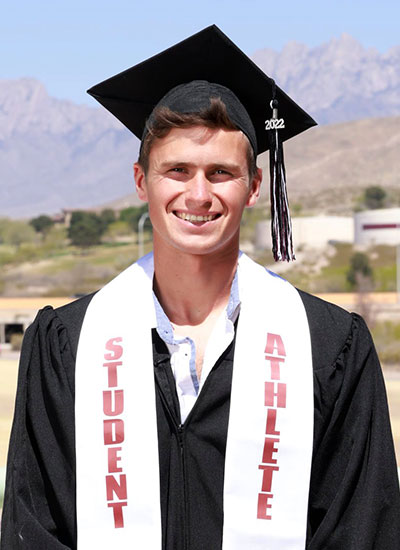 France

TENNIS : CLASSEMENT 1/6
New Mexico State University
Louis Menard, joueur de tennis français, licencié au Tennis Club d'Annecy le Vieux, classé 0, s'est engagé avec Athletics Partner pour son projet universitaire américain et la recherche d'une bourse sportive en tennis. 
En août 2017, il part pour les Etats-Unis direction l'état du Nouveau Mexique à Las Cruces pour la très belle fac de New Mexico State. Il y dispute le championnat de tennis universitaire de NCAA Division 1 avec une bourse sportive et performe sportivement et académiquement.
En mai 2022, Louis sort diplômé de New Mexico State University.
New Mexico State University (2017-2021)
5x WAC Player of the Week (Février 2019, Avril 2019, Février 2021, Mars 2022)
3x WAC All-Tournament Team (2018, 2021, 2022)
1x WAC Doubles Team of the Week (avril 2021)
3x ITA All-Academic Team (2018, 2019, 2021)
3x All-WAC First Team Singles (2018, 2019, 2022)
1x All-WAC Second Team Singles (2021)
1x All-WAC Second team Doubles (2018)
3x ITA Scholar-Athlete (2019, 2020, 2021)
3x WAC All-Academic (2018, 2020, 2021)
2x WAC Singles Player of the Month (septembre 2021, octobre 2021)

2x WAC Doubles Team of the Month (septembre 2019, octobre 2021)

2021 WAC Co-Regular-Season Title
2021 NMSU Male Team of The Year (team)
2021-2022 Aggie Invitational Singles Champions
2021-2022 ITA Mountain Regional (quart de finaliste)

2018 Western Athletic Conference Champions



2018-2019 Aggie Invitational Doubles Champions (Fall 2018)
2018-2019 WAC All-Tournament (Doubles)
Bonjour la Team Athletics, j'espère que vous allez bien et que vous avez réussi à placer un maximum de sportifs pour cette rentrée 2018/2019. Des nouvelles de Louis : cela se passe vraiment très bien pour lui et il est super content de sa première saison à NMSU. Il est reparti heureux et motivé pour sa deuxième année et a beaucoup changé (en bien!). Encore merci à toute votre équipe !